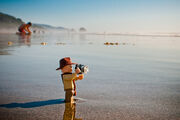 The Lego Movie
is a very Awesome Movie! Created by the Lego Team and the by the creators of Cloudy of a chance of Meat balls! The movie is coming to the big screen (cinemas)in 2014 Febrauary 7! The main character Emmit! So there is posters of this movie even if theres months left its still very popular!And it has sets don't say that Emmit dosen't have a smily face he does! This is a link to the movie
http://www.youtube.com/watch?v=fZ_JOBCLF-I
! Check it out its awesome!These are the character names! Emmet
WonderWomen
Superman(ManOfSteel)
Batman
Wyldstyle
Green Lantern
Vitruvius
Uni-Kitty
                                   President Business
                                                                                    Bad Cop / Good Cop 
                                                                                     Craggy
                                                                   Spaceman Benny
                                                               Finn 
Those are all the characters! The Lego Movie Is made in America an Austaillia! Its officialy Created by The Lego Group! It involves Dc characters and Marvel and It acually involoves every Set of Lego! Its a slow motion picture. It got announced in Comic Con 2013! Everybody is exited it to come out! Well I am Exited about The Movie Coming out!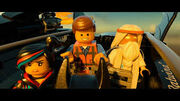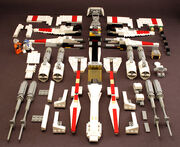 Ad blocker interference detected!
Wikia is a free-to-use site that makes money from advertising. We have a modified experience for viewers using ad blockers

Wikia is not accessible if you've made further modifications. Remove the custom ad blocker rule(s) and the page will load as expected.